32 5-WINDOW COUPE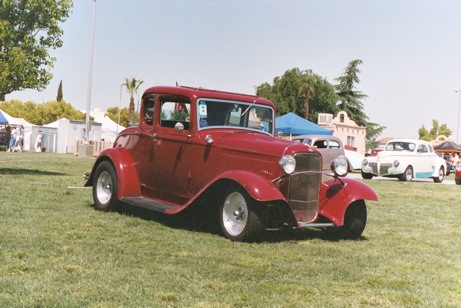 This is "Ruby" -- Martha's 32 Ford 5-window coupe at the NSRA Western Nat's in Bakersfield. She sits on a TCI chassis and runs a small-block (302) Ford with AOD. Vintage Air A/C for comfort. And the original 1932 Ford seats to convince you not to drive too long at any one time! Gotta do something about these.

Ruby donated her engines to the Mustang several times, when I would blow up a race motor and need a short block to start again. She languished, engine-less, for quite a long time. I have finally gotten an engine back in her. A stock-block, .030" over 306 engine with SVO heads and an Edelbrock RPM intake. I decided to go back to a carb because re-installing the fuel injection looked like such a pain. Live and learn.

I cannot believe what horrible junk modern gas has become. Let it sit for very long and it forms a gooey sludge that absolutely clogs the small passages in your carburetor. I had bought a brand-new 650 Holley for this car. Put it on, started it up, and it ran fine. Had some health issues that kept me from doing much for a couple of months and...the damned thing wouldn't idle any more. Pulled the carb, cleaned it, put it back. Same thing. Off again, clean again, on again. Same thing. Put on the old Edelbrock carb and it idled fine. Back to the Holley, no idle. I had bought a Road Demon carb many years ago for this car, put it on a mildly-hopped engine, and it ran like crap. Called BG for help and they told me this carb was strictly for stock engines. No help, no hope. (They later folded. BG is back, I hear, with a new line of carbs.)

Anyway, cleaned the mud-dauber nests out of the holes and slapped it on just to see what would happen. Voila'! It ran. And idled. After a week, the accelerator pump clogged up but a bit of cleaning and all is well again. Son James and I are finishing up re-installing the grill shell and headlights and I have some wiring issues with the dashboard instrument connectors but Ruby is just about ready to go driving again! Just in time for the New Braunfels Area Car Club carshow in April. It will be nice to get some more carshow pics.