There are roughly 9 of us that race or have something to do with XETEX Racing. Charles and Martha Greenlaw, Aaryn and Annie (Greenlaw) Perry, Scott Greenlaw, and James Greenlaw. Start with SDRC experts like Jack Harvey, Russ & Eric Eyers, Mike Van Doren, Dan Hostetter, Dan Waldrip (and many more). Add in some excellent friends like Jim Best, Justin Baas, and Les Hilgers. Put us all together and you have the makings of a totally non-profit entity that produces a ton of fun …

We started racing at Bonneville in 2004. Speed week is held in the middle of August every year; I'm told it sometimes gets hot there!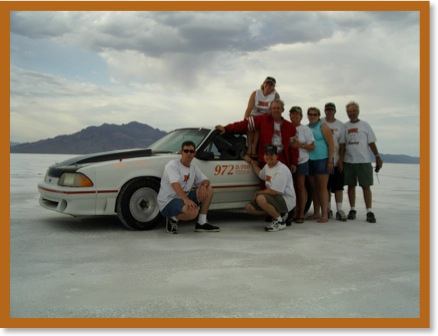 Our first car was a 1987 Ford Mustang GT that I bought new to drive to work. After some 180,000 miles, it was time to find a new purpose for it. After thinking about it for a while, I decided to see if we could push this aerodynamic disaster over 200 mph using a 5.0 engine. On gas, without nitrous or a blower. The computer said, "maybe"…

The first engine was basically a street motor with aluminum heads, a Comp Cams hydraulic roller, and a Victor Jr. intake running a custom Holley carburetor. This was enough for all of us to make a pass over 140 mph and I got one run at 169! Unfortunately, we had fuel pump issues, the engine went lean, and it ended up swallowing the #5 exhaust valve.

We rebounded in 2005 with an engine that was similar to 2004, another street motor setup about the same way. Ate another valve at the Texas Mile to start the year. Brand new engine, no less. Pulled an engine out of Martha's deuce and moved some of the goodies to it. Speed week went pretty well -- at least until the rains came. A few more of us got some licensing passes.

For 2006, we had a real race engine built by Greg Grossett at Total Performance in Santee, CA. First run was an easy pass to check things out -- and I qualified for the long course by running over 175 from the 2 to 2.25 mile markers! Shifted over to the long course to see what she would do. Ran out of oil pressure just past the 3 mile, however, and had to shut down. With a number of changes, I finally managed to keep power on to the 4 mile marker, netting 195.002 mph. The kids ran a car I had bought from JBA -- a 2000 Ford Focus with a souped-up 2.0L DOHC engine. We never got going very well and ended up throwing a rod through the block. Justin Baas was driving but we don't blame him for the engine. I think it had spun a rod bearing before we even bought it and this was the last straw for that engine.

2007 was to be the year I finally went 200+ mph. Ahhh, wouldn't that have been nice. We had a nice trip to Bonneville and back, but not much fun while we were there. On the other hand, it was remarkable that we got to run at all. The crew that sets up the course managed to rescue the meet after rain threatened to cancel the whole thing. We cannot believe what wonders these folks accomplished to present us with two long courses to run on. Just wish we could have made more than one run ...

2008 was when I finally reached my goal -- 202.572 in the last mile!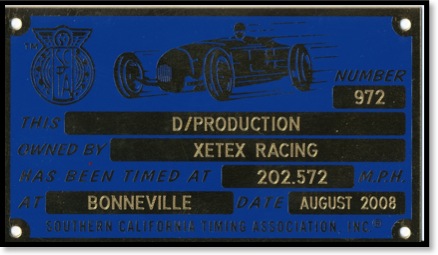 Exit speed was 202.908 so that was all she had! There ain't no more.

The kids got a new engine in the Focus for 2008 but had nothing but trouble on the salt. We took it home to work on for 2009.

In 2009 we only took the Focus to Bonneville with the idea of focussing (sorry) on getting it to run on the record. We worked and worked but couldn't overcome a carburetor issue -- the air/fuel ratio kept increasing as the car went down the course. It would start off pig-rich in 1st gear at maybe 10:1, get better in the intermediate gears, and end up at maybe 14 or 15:1 in 6th. Way too lean. In fact, we finally lost compression in a couple of cylinders and quit. Best guess is that the fuel in the float chamber was frothing and the extra air caused it to go lean. The anti-vibration o-ring carburetor mounts didn't work as advertised.

We are looking at going back to fuel injection. The engine needs to come out and get some TLC, as well. The plan is to try very hard in 2011. The engine is being rebuilt (no sleeves needed yet!). I sent the head back to Greg Grosset at Total Performance to be rebuilt. They replaced the valves with slightly larger ones (suitable for later turbocharging), new seats, improved the porting a little, and sent it back to me. I almost immediately sent it back to California to Hogan's for a custom FI intake. The engine should be ready very soon, then off to Henderson Performance in New Braunfels for Corey to plumb up the fuel injection and tune the engine on his dyno. If this isn't serious, I don't know what is.

Jim Best and I took the Mustang back to Bonneville in 2010. Didn't do much good -- best speed was 196 -- but we made 15 runs and had a lot of fun. Someone at the salt pointed out that getting a dozen or so passes over 180-190 mph is really not such a bad thing. I guess I have to agree. Then a photographer from Bonneville sent me some pictures of the car he took at the 2 mile mark (see the 2010 page). The hood was flapping up and down and the front fascia was bending in. This is about the place where the datalogger said the AFR was spiking up from 12.5 to 14 or 15 briefly. Hmmm. Jim and I took a look and decided that we could brace the front fascia and clamp the hood a bit better and, while we're at it, build the carb airbox and scoop I had wanted to do last year and, what the heck, let's take her back in 2011.

Meanwhile, Russ Eyres had been building the chassis for a lakester for me. I "designed" it over 2009-10 and we went over those sketches early in 2010. Russ started bending metal after Speed Week 2010. Needless to say, a lot had to change from my original 'design' to make it actually work but, by and large, the shape and dimensions are as I wanted them. I went out and picked up the rolling chassis in April of 2011 and it's now in my hangar. The plan was that Jim and I would finish the car -- plumbing, wiring, body, etc. -- and maybe have it ready in 2012. We were discussing the pros and cons of fibreglas vrs aluminum for the body, keeping in mind our limited skill set.

Those plans took a big hit on October 27th, 2010, when Jim's plane crashed just off our airstrip and he was killed. I'm working on the lakester now but it just isn't the same and the Mustang is finished as a LSR car. RIP Jim.

I did get the lakester running. Took it out to SoCal in spring of 2012 to get a pre-inspection from Steve Davies. Russ and I fixed the couple of things Steve found lacking and then we took the car up to El Mirage for an afternoon of 'private time' and then for the May El Mirage meet. Had some teething issues and never got going very fast (165 or so) but the main thing was going through Tech Inspection in preparation for Speed Week that summer. The car was completely body-free -- just tube hoops and wind blowing up my pants legs. Exciting...and cool!

Speed Week 2012 saw the lakester on the salt for the first time. Still had issues with the shifter mechanism. It was a good idea that wasn't working! Never did get it to shift into all four gears but, eventually, I got the car qualified for the long course and finally got it over 200 mph. But it was a grind. Had to do it, however, because we were going to spread Jim's ashes on the salt and I promised him a ride at over 200. Had to do it, and I did.

Jim's daughters were there for the occasion. Turns out they liked it. Started pestering me about running another car. So I let them campaign the Focus, figuring this would be a safe and reasonable place to start. They had their share of problems getting ready but, up on the salt, they made it go faster than we had ever gotten it to go! And, when it was done, they wanted to go faster. Imagine that! The lakester had a body on it for 2013, which I confidently expected would raise my speeds up significantly. Umm ... not so much. Max exit speed of 214 wasn't much higher than before. But there was terrible buffeting going on inside the cage and I suspect the engine was getting pretty dirty air as well. Thinking about it, I decided to try installing a simple windscreen and an engine scoop.

For 2014, I offered the girls the old Mustang to run. I had most of an engine laying around. Block and crank, a set of higher-compression pistons (one had to be replaced) with rods, Victor Jr. heads and intake, custom 750 Holley, MSD distributor, flywheel, scattershield, toploader 4-speed, headers and collectors. They had the engine assembled by Rick Pridgen at Parks Engine Service, here in Seguin (he has assembled all of my engines over the past 6-7 years). Rick ordered up a Bullet solid roller cam and threw in some roller rockers and misc. parts. Ended up with an engine that the computer guessed would put out about 480 hp at 7200 rpm. Better than any of the engines I originally built for the Mustang. They took it to the Texas Mile in March, 2014 and did a best speed of 163. The computer predicted 165, based on the computer model for the engine. Pretty close. Same computer predicted 180+ at Bonneville.

They hauled the car up to Wendover, arriving just after the deluge hit, covering the salt flats with up to a foot of water. We all sat around for several days until the SCTA/BNI officials came to the (reluctant) conclusion that the water was not going away and they cancelled the meet. USFRA managed to put on a meet the next month but the World Finals had to be cancelled in October because of standing water. Bummer! Just wait until next year, they said.

Come 2015 and Bonneville was rained out again! Or, technically, mudded out. The shrinkage of the salt flats (BLM has yet to admit this has happened) finally resulted in the salt flats being lower than the surrounding mud flats. An energetic spring rain deposited a layer of mud on the salt. Normal processes led to a thin skim of salt atop the mud that looked like the old salt flats but was too thin to support much traffic, much less any course preparation. It is far from clear that there will ever be another Speed Week.

I remain hopeful but have decided to concentrate on El Mirage for the short term, just in case.